Wallabee "Wallace" or "Wally" Clyde Tarantula is a friendly pirate. He has a red coat, white shirt inside it, black boots, blue jeans, red bandana, golden belt black eye-patch and hook replaces his left hand. His left hand was eaten by a huge crocodile before hook replacing his left hand. He is afraid of spiders, tarantulas, frogs, crocodiles and snakes. He got killed and
Commander Tommy Mike
beat him up. His father was eaten by a huge crocodile. His birthday is July 6th. His cape and pirate hat was gone.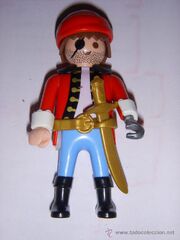 He only appears in a one set,
4073 Treasure Island
.

Ad blocker interference detected!
Wikia is a free-to-use site that makes money from advertising. We have a modified experience for viewers using ad blockers

Wikia is not accessible if you've made further modifications. Remove the custom ad blocker rule(s) and the page will load as expected.