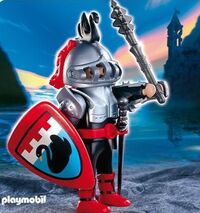 The Swan Knight is a knight dressed in silver armor. His undershirt and legs are all black. He has red boots and he carries a red shield with black swan set against a white and blue castle background. The Knight includes a black sword and black mace as his weapons of choice. The Swan Knight is from the Knights Playmobil set and is the alternate version of the Set 3024 Swan Knight.
Ad blocker interference detected!
Wikia is a free-to-use site that makes money from advertising. We have a modified experience for viewers using ad blockers

Wikia is not accessible if you've made further modifications. Remove the custom ad blocker rule(s) and the page will load as expected.