4880 Robo Gang Lab with UV Flashlight is a
Top Agents
set release in a
2010
-
2011
. It costs $38.95.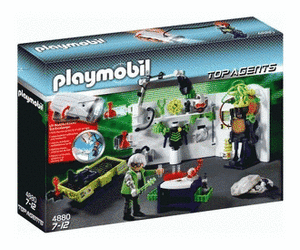 The Playmobil Robo Gang Lab with UV Flashlight is the brain behind the infamous Robo Gang operation. This lab is where a brilliant mad scientist assembles the dastardly robots with glowing rib cages that have become legendary in Playmobil World! The Playmobil Robo Gang Lab with UV Flashlight features lots of fun accessories including a robot charging station, two robot animals, lab equipment, a miniature microscope, scientist figure and two robots. The UV flashlight helps kids to find hidden stickers and charge the robot rib cages. Cause some technical trouble with the Playmobil Robo Gang Lab with UV Flashlight!
Robots feature flashing rib cages (batteries included)
Dissemble and reassemble robots
Includes Professor Crazy the scientist figure, 2 robot figures, an extensive laboratory, 2 robot animals, robot charge station, mini microscope, multifunctional Ultraviolet flashlight with dynamo for robots charge station and other small lab accessories
Ad blocker interference detected!
Wikia is a free-to-use site that makes money from advertising. We have a modified experience for viewers using ad blockers

Wikia is not accessible if you've made further modifications. Remove the custom ad blocker rule(s) and the page will load as expected.